Mozilla Development Explained: How Do I Report Bugs in Firefox?
Peter M. Weilbacher
mozilla@Weilbacher.org
About myself
Married
Living in Potsdam near Berlin
Working as Astronomer at Astrophysikalisches Institut Potsdam
First talk about computing/programming
OS/2 user since 1993
Almost no OS/2 programming experience
(but a lot of stuff done with C/C++ under Unix/Linux)
"Mozilla": Different products
Mozilla perspective from OS/2 point of view:
Firefox browser
Thunderbird mail client
SeaMonkey: successor of the Mozilla Suite
Calendar: Sunbird and Lightning
(extension for SeaMonkey is dead!)
Web editors: NVU, KompoZer, "Composer"
XULRunner: next generation backend
Also: Camino and several webtools hosted on mozilla.org, and other programs, e.g. Songbird, not (yet) available on OS/2.
Development in Branches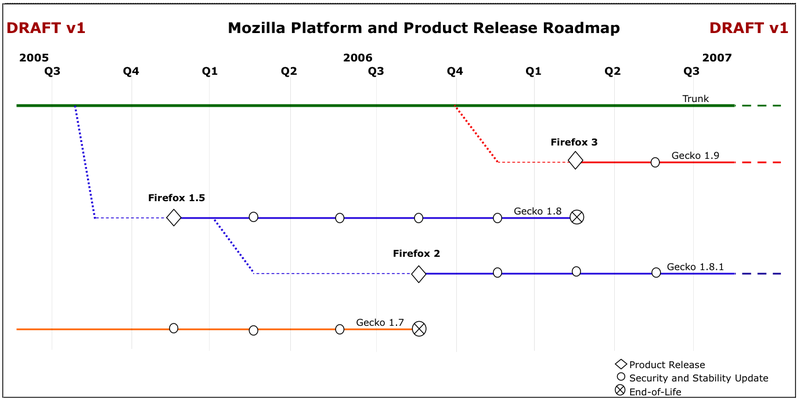 (Taken from Chris Beard's blog, dates are now obsolete!)
Source code complexity
From the "trunk" source tree on my disk (no Thunderbird, Calendar):
35852 files in 227 MiB
Many different languages involved: C, C++, JavaScript, XML (XUL, RDF, XHTML), HTML, CSS, Makefiles, Perl, (ba)sh
Build takes 40 to 90min, depending on build configuration
Code layers: base, XPCOM, platform gfx/widgets, rendering, UI and lots of other stuff
Program complexity: many user config options, themes, extensions, usage patterns...
People involved
People involved in Mozilla OS/2 development:
Mike Kaply: OS/2 platform "owner", nightly builds, Fx + Tb releases, code reviews
Andy Willis: build config, XULRunner, lots of patch testing
Julien Pierre: help with NSS problems
People who build themselves and test patches: Dave Yeo, Walter Meinl, William Hartzell
Felix "mrmazda" Miata: maintains OS/2 Ports page, does a lot of testing, user support
Steve Wendt: maintains own tips page, user support
(Rich Walsh: drag-and-drop support, WPS enhancements, Run!)
Me: semi-regular builds, almost all OS/2 related code changes and checkins. Own PmW-* releases, (in)official SeaMonkey releases, maintenance of build instructions and required packages, user support
My perspective, I hope I didn't miss anyone, a lot happens on IRC (unseen by me)!
Fixing a bug
Developer's responsibility:
Bug report (newsgroup, Bugzilla)
Reproduce, debug
hopefully fix in own code tree and create patch
Attach patch to bug entry, ask for review
Attend to review comments (if any), get checked into trunk
After a few days, test on branch(es), ask and wait for branch approval
Check into branch(es)
Wait for official release and produce corresponding OS/2 release to get the fix into user's hands
Reporting a bug
User's responsibility:
Some strange behavior
Search in README.txt and Google and Google Groups for solution
Disable plugins (Java, Flash!), extensions, and themes (firefox -safe-mode or new profile in SeaMonkey)!
Could it be related to some configuration option?
(Search Bugzilla)
Ask in mozilla.dev.ports.os2 or on IRC (#warpzilla), always mention the product and version (cut and paste from Help -> About)
If possible, try to reproduce on another platform
File a new bug entry on Bugzilla (Guidelines, Etiquette!)
Patiently wait for somebody to answer and maybe fix it.
Some developers frown on reminders but OS/2 people probably have to be reminded from time to time and probably don't mind so much...
Other help channels
Many bugs and usage questions are not OS/2 specific. Where else to get competent help?
Mozilla support newsgroups (on news.mozilla.org): mozilla.support.* (for Firefox, Thunderbird, SeaMonkey, Calendar release versions
Forums on MozillaZine
German newsgroups: de.comm.software.mozilla.* (but watch your manners)
Product translators often have webpages and forums of their own
Upcoming big changes
Changes to come with possible (or already known) impact on Mozilla-OS/2 development:
Recently done: default theme enhancements for more OS/2-like look (present in Firefox 2)
Change to cairo-based rendering (still a big task to be done!)
Move SeaMonkey from XPFE to "Toolkit", including profile import tool (hopefully mostly done)
XULRunner as base for all apps (works only with patches)
Reflow refactoring (hopefully nothing OS/2 specific!)