see also... Warpstock US 2006 more Warp events
in general website & event news website info contact us!
+ + + latest news 2006-Nov-17 + + + What a great event! Thanks to everyone who made it possible! We have started to put the session transcripts online.

See all news...




welcome!
You've just hit the homepage of the 2006 edition of the European annual OS/2 and eComStation user conference known as "Warpstock Europe." We hope that you will find all the information you are looking for—and perhaps even a bit more. If there is something that you are missing, let us know.
Date, Times and Location
This year, Warpstock Europe will be held in
Cologne, Germany from November 17 to 19
in one of Germany's largest youth hostels, the
Jugendherberge Köln-Riehl
.
The
sessions
will start on 10:00 in the morning until 18:15 (this is 10am to 6 pm...) and the daily registration desk opens one hour in front of the first sessions (from 09:00 in the morning that is). A complete schedule of the sessions is available
here
.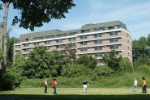 Located on the meadows of the Rhine river's west bank, it offers all we need and even more. Providing more than 300 beds and nearly a dozen of conference rooms makes it rather cope with hotels than other youth hostels. During a guided tour with the hostels staff, the onsite organisation crew became convinced that the hostel, while maintaining a more cordial kind of hospitality than hotels, is proven to provide us with facilities that can certainly compete with so-called more "sophisticated" and professional sites. Read more about it on the
Location
page.
What to expect
On the agenda pages, you'll see all sessions and speakers that are approved and confirmed so far. In addition there's still speakers behind the scene that are checking and preparing and might also decide to get to Cologne.
One thing that you can expect from this year's event is more spare time and great talks in the evening. We are planning for sufficient breaks between sessions and hope to be able to make event days less tedious by keeping an eye on the number of sessions. And: we've managed to make the hostel keep the bar open for us until midnight...